BORIS SAID – K1 SPEED INDOOR KARTING CENTERS NATIONWIDE.
Boris Said
has been racing professionally for more than 20 years, competing across
North America
and Europe in a variety of classes and racecars. Boris began his career in the Sports Car Club of America (SCCA) and was the 1988 Rookie of the Year. Over the next several years, Boris Said won the Showroom Stock GT National Championship three consecutive times and quickly made a name for himself within the racing world. After competing successfully in the SCCA, Boris Said was contacted by Reeves Callaway, a famous designer of Corvette racecars, to compete in the German ADAC Cup with the Callaway Corvette. His racing success with Callaway earned him a spot in the famous 24 Hours of Le Mans the next year, and he started from the GT2-class pole position after setting the fast lap. Later in the season, he won at the famous Spa-Franchorchamps circuit in Belgium from the pole position.
We are immensely proud to have Boris Said as a co-owner at K1 Speed. Our Nationwide indoor karting facilities are designed to provide our customers with an authentic racing experience, and the fact that our tracks carry his seal of approval is an example of our commitment to this goal. To fully appreciate this point however, one has to understand the background of Boris Said.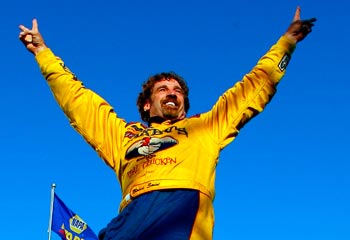 After finding success in Europe, Boris Said came back to the United States and began racing in the SCCA Trans-Am series and IMSA. Driving the Team PTG BMW M3, Boris Said won 15 races in IMSA, including the 1997 and 1998 Rolex 24 Hours of Daytona, and the 1998 12 Hours of Sebring. Beginning in 1997, Said began down the road of pursuing his NASCAR career. In 1997 and 1998, Said had a full ride in the Craftsman Truck Series, and his experience in road racing made him a sought-after item as a driver and instructor by teams looking to gain an edge at Infineon and Watkins Glen. Throughout the first half of the 2000s decade, Boris Said continued helping NASCAR teams tackle road course venues and continued competing in the Rolex GT and Prototype classes. Boris Said also won the 2005 24 Hours of Nurburgring campaigning the BMW Motorsport M3 GTR, and was the first American to win that event. Said currently resides in Carlsbad, California near our original
K1 Speed
indoor karting facility
, and continues to be a
professional racer
with his Sobe No Fear team.
EXPERIENCE INDOOR KARTING AT ANY OF OUR LOCATIONS NATIONWIDE.
If you want to experience indoor karting, K1 Speed should be your first choice. We strive to offer our customers a genuine racing experience and we believe that our indoor karting venues offer just that. With state-of-the-art
electric karts
, large entertainment venues featuring sitting areas, pool tables and snack bars, and the input of Boris Said, we're confident you will enjoy your experience at K1 Speed.
Contact us today
if you are interested in indoor karting at K1 Speed.
Photos by Motorsport Media | Halston Pitman